◆公司地址:   浙江省湖州市南太湖新区龙溪街道   红丰西路1588号 ◆联系电话:   0572-2272536   0572-2272553 (外贸业务)   0572-2272089 (招聘电话) ◆邮箱:   XTW@NEWTIANWAI.COM ◆邮编:   313000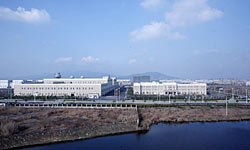 湖州新天外绿包印刷有限公司,坐落在太湖南岸的湖州南太湖新区,地处长江三角洲地区的中心区位。公司具有六十多年专业印刷历史,是以包装印刷为主,从事卷烟、药品、食品、化妆品、日化产品等各类产品包装和商标设计、印刷制作的现代化综合性包装印刷企业。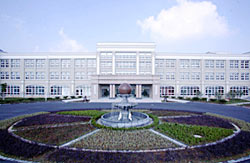 目前,公司现有员工330余人,其中大专文化水平以上专业技术人员占30%以上,企业注册资金6000万元,固定资产1.7亿元,占地面积约80000平方米,花园式的厂区及恒温恒湿的中央空调系统为生产优质的产品提供了重要保证。
  公司拥有当今世界领先的印刷设备、辅助设备60余台套,包括德国高宝9+1、8+1、7+1、6+1胶印机6台,意大利赛鲁迪八色和十色凹版卷筒印刷机各1台,瑞士BOBST、日本三和、国产长荣模切机、烫金机30余台、全自动丝网印刷机四台、瑞士捷拉斯十色多功能柔版印刷机、日本六色多功能标签印刷机、二维码喷码机等印刷包装生产设备,同时还拥有10台高性能自动印品检验机,日本、美国、德国生产的成套实验、检测设备,能够对产品的质量进行全面、系统、严格的标准检测,为生产高质量、环保型产品提供了技术保证。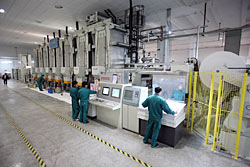 公司通过了ISO9000、14000、45001质量、职业安全、环境体系认证,并持续运行有效。2017年通过了高新技术企业的认证工作。同时,2017年1月公司获得中国合格评定委员会颁发的国家实验室认可证书,2020年9月获得测量管理体系(AAA)证书。
  公司先后获得国家列检产品合格单位和国家商品条码印刷资格认定企业、中国包装产品定点生产企业、中国烟草物资公司卷烟配套材料生产基地、定点企业,浙江省卷烟材料定点供应单位,全国优秀包装企业、中国包装龙头企业、中国100强先进包装企业等资格和荣誉,并具有自营进出口权。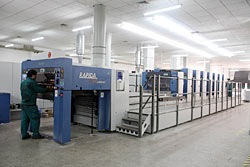 凭借优良的设备和先进、严谨的管理,公司形成了独特的综合管理和技术优势,不断地开发新产品、开拓新市场。目前,公司主要客户有:浙江、湖北、福建、山东、安徽等中烟公司,"上海烟草包装印刷有限公司"和"武汉虹之彩包装印刷有限公司"两个合作客户。还成功开拓了国际市场,现有客户Amalgamated Tobacco Manufacturing Ltd(联合烟草制造有限公司)、ORIENTAL GROUP FZE(东方集团公司)、PREMIUM TOBACCO FZ LLC(优质烟草公司)等国外烟草企业,为美国、韩国、阿联酋、越南等国家生产烟标包装,年销售额1.5亿元以上。同时,药品、食品、化妆品、日化产品等包装印刷产品的客户有中美上海施贵宝、上海通用电气药业、南京先声东元制药、中美华东制药、苏州惠氏制药、上海莱士血液制品、安徽九华、宛西仲景制药、养生堂、纳爱斯、杭州知味观等100多家制药和食品及化妆品公司,年销售额1.5亿元以上。 2015年公司又投资500余万元,建成了2000平米达到十万级标准的净化车间,加工生产奶油、牛奶包装,现已有苏州亚亨食品、杭州恒华食品、山东贝克汉邦、盐城顶味食品等四十余家客户。公司生产的"黄鹤楼、七匹狼、利群、黄山"等烟标,"红西凤"酒盒,"金施尔康","善存多维元素片"包装盒等产品分别获得国家包装产品金、银奖。
  Huzhou New Tianwai Green Package Printing Co., Ltd is located in the south shore of Huzhou South Taihu Lake New Zone which is in the central area of the Yangtze River Delta region. Our company has a professional printing experience of more than 60 years specializing in packaging and label printing of products such as cigarettes, medicine, food, cosmetics and daily chemical products.
  Currently, our company employs are more than 330 people, more than 30% of whom have an educational background of junior college or higher. Our company has a registered capital of 60 million RMB and fixed assets of 170 million RMB, covering 80,000 square meters. Garden-like factory and central airconditioning system for temperature and humidity provide an important guarantee for producing quality products.
  Our company possesses more than 60 sets of the world's leading printing equipment and auxiliary equipment, including six KBA offset presses from Germany type for 9+1, 8+1, 7+1 and 6+1, Cerutti ten-color and eight-color gravure printing web presses from Italy one for each, more than 30 sets of Switzerland BOBST hot stamping machines, Japan sanhe die-cutting machines, and domestically produced Changrong die-cutting machines, hot stamping machines. We also have Gallus ten color multifunction flexographic printing presses, Japanese six-color multifunction label printing presses, automatic screen printing presses, stenciling for drug regulatory codes, two-dimensional code inkjet printing and so on. Besides, We have 10 sets of high-performance auto-detection machines for printing products and sets of experiment and detection equipment from Japan, USA and Germany, all of which can conduct comprehensive, systematic and strict detection for products, and can provide technical guarantee for the production of environment-friendly products of high quality.
  Our company has passed ISO9000 Quality Management System Certification, ISO14000 Environmental Management System Certification, ISO45001 Occupational Health and Safety Management System Certification, all of which are continuously effective. In 2017 our company have pass a certification of High And New Technology Enterprise. Meanwhile, in January 2017, the company obtained the National Laboratory Accreditation Certificate issued by China Conformity Assessment Committee. Obtained the measurement management System (AAA) certificate in September 2020.
  Our company has accessed kinds of certifications and honors such as national train inspection qualified products, national qualification bar code printing enterprises, Chinese packaging products manufacturing enterprises, the cigarette materials production base and the designated enterprise for China National Tobacco Company, designated suppliers for Zhejiang cigarette material, National Excellent Packaging Enterprise, Chinese leading packaging company, Chinese top 100 enterprises and other honors. And we also have import and export right as well.
  Our company has developed a unique outer integrated management and technology advantages, and is continuing to develop new products and explore new markets depending on excellent technology and advanced equipment and strict management. At present, our major customers are: Tobacco Company of Zhejiang, Hubei, Fujian, Shandong, Anhui and so on. Shanghai Tobacco Packaging and Printing Co., LTD and Wuhan Hongzhicai packaging and printing Co., LTD are our two cooperative customers. We also successfully opened up the international market, Amalgamated Tobacco Manufacturing Ltd., ORIENTAL GROUP FZE, PREMIUM Tobacco FZ LLC, and many other foreign Tobacco companies are now customers. Our printing production of cigarette brand products for the United States, Korea, United Arab Emirates, Vietnam and other countries. Annual sales of more than 150 million yuan. Meanwhile, more than 100 pharmaceutical, food and cosmetic companies, such as pharmaceuticals, food, cosmetics and daily chemical products include: Sino-American Shanghai Squibb, GE Healthcare, Nanjing Simcere Pharmaceutical Co. LTD, Huadong Medicien, Wyeth Pharmaceutical of Suzhou, Shanghai RAAS blood products co., Ltd., Anhui Jiuhua, Wanxizhongjing Pharmaceutical, Yangshengtang, NICE, Hangzhou Zhiweiguan, with annual sales of 150 million yuan of above. In 2015 our company had invested more than 5 million Yuan to build Class 100,000 clean workshop which is 2000 square meters. We can process production of milk packaging. Now we have more than 40 customers such as Suzhou Yaheng Food, Hangzhou Henghua Food, Shandong Beck Hanbang, Yancheng Top food and so on. Company production of "Yellow Crane Tower", "Seven wolves", "Harmonization" and "Huangshan" cigarette box package, "Red West Phoenix" wine package, "Gold Theragran","Centrum multi element" package and other products were won national gold and silver.